September 2020-- When dealing with rising sea levels, "people's initial reaction to erosion is to build a wall," Sacred Heart University Professor Jennifer Mattei observed.
"We now know that sea-level rise and increased storm intensity undermine sea walls. Storm waves engulf walls, and trapped water causes flooding. Walls erode and collapse, and reconstruction is costly. The solution, as Stratford Point Living Shoreline demonstrates, is to re-establish the missing habitat to protect the shoreline, hold the sediment and increase resilience."
Stratford Point Living Shoreline, a research project headed by Sacred Heart University biology professor Jennifer Mattei with members of her lab, has received the Best Restored Shore Award from the American Shore & Beach Preservation Association (ASBPA).
The living shoreline is part of the Mouth of the Housatonic River Important Bird Area (IBA), on land owned by Corteva Agriscience and managed by Audubon Connecticut. It comprises artificial "reef balls;" smooth, cordgrass marsh; high marsh; coastal dunes and coastal forest/grassland mosaics. Its purpose is to establish a shellfish reef, establish natural protections against wave energy and disrupt coastal erosion.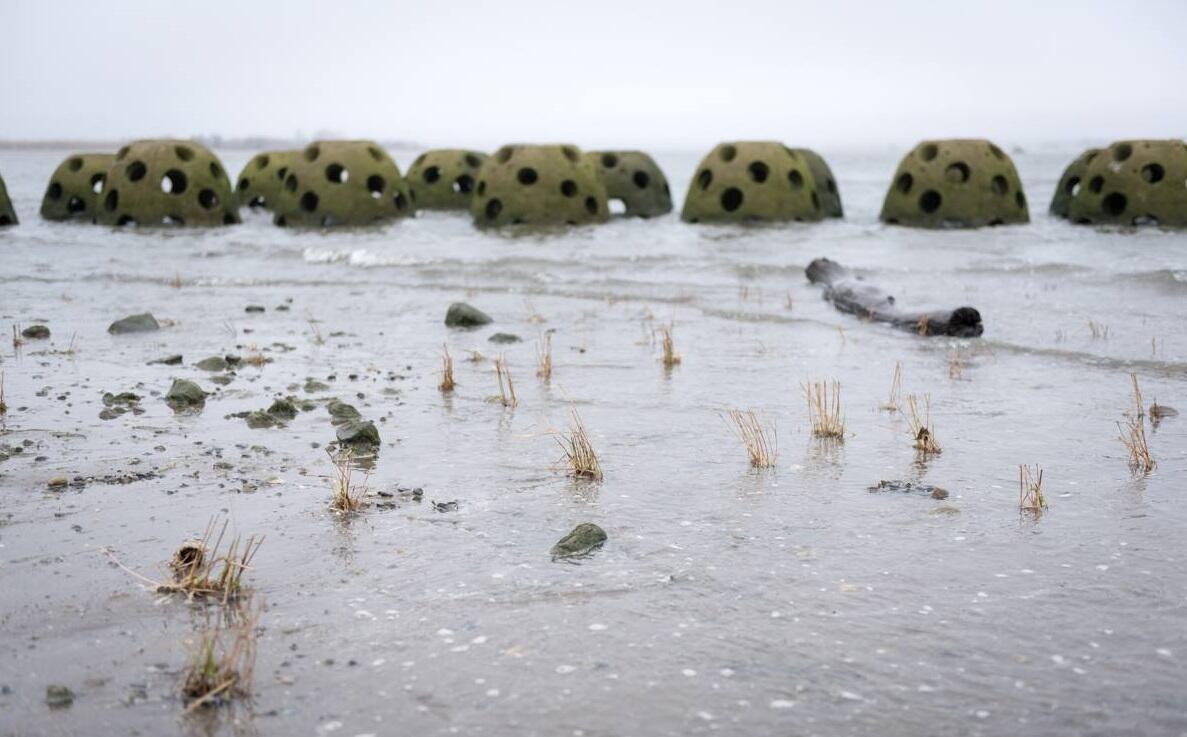 In 2014, a pilot project was installed at the site using 64 cement reef balls, each weighing 1,500 pounds, to absorb wave energy and reduce erosion. As a result of these structures, in just two years, sand deposits rose 12 inches both behind and in some areas in front of the reef. In one year, the planted saltmarsh grasses doubled in size.
The living shoreline has since grown into the largest in New England, with 900 feet of coastal erosion control and resiliency, four acres of intertidal habitat, one acre of coastal dune habitat and 25 acres of woodland and meadow habitat.
"Stratford Point is part of an Audubon Important Bird Area and it has been incredible to see Saltmarsh, Seaside, and Nelson's Sparrows in the re-established salt marsh habitat," said Corrie Folsom-O'Keefe, director of bird conservation for Audubon Connecticut, a project partner. "The Long Island Sound ecosystem is critical to the health of birds and safety of coastal communities, and we need more projects like the Living Shoreline at Stratford Point to serve as models for success."
In fact, that is exactly what Folsom O'Keefe and her team are now doing.
This year, Audubon created the Long Island Sound Area Conservation Strategy, a guiding document that lays out the most important coastal areas for birds and people in New York and Connecticut. Our conservation teams in Connecticut and New York will use this document as a "blueprint" to advance nature-based strategies to help the Atlantic shoreline weather the impacts of climate change, while also creating healthy habitats for coastal birds.
Working alongside partners like CT DEEP, CIRCA, the Menunkatuck Audubon Society and the Connecticut Audubon Society, Audubon Connecticut is focusing on new projects to improve coastal resiliency at places like the East River Marsh in Guilford and Madison, and the Great Meadows Marsh in Stratford.
Back at Stratford Point, Mattei hopes the ASBPA award shines a light on the project and brings attention back to environmental issues in the U.S. "Climate change is not going away. Property owners need to get together and start revegetating and repopulating their shoreline with oysters and shellfish to protect their properties," she said. "Ultimately, we need to be better stewards of Long Island Sound because it gives us so much in return."
You can read the original award press release, and learn more about Professor Mattei and Sacred Heart University's coastal and marine science programs here. For more about Stratford Point and Audubon's Coastal Resilience work, click the links below.