Audubon Live!
Greenwich Osprey Cam
Courtesy of Audubon Connecticut
Note: The camera is currently down and our team is working to find the cause of these technical issues. We apologize for this interference in broadcasting and we will provide updates here once these issues are resolved.
This live video provides a unique, genuine, and close-up view of Osprey, a migratory bird that breeds in Connecticut in the spring and summer. During the breeding season, you will have a chance to observe nature in action through the daily lives of the Osprey occupying this platform as they build their nest, feed, incubate their eggs, and care for their young. View more wildlife cams on Audubon Live!
The Osprey pair has been named Ted and Margaret, in honor of our friends and colleagues Ted Gilman and Margaret Lechner. Best wishes to you Ted and Margaret!
FAQ ABOUT THE OSPREY AND THE CAMERA
Q: The camera's down! What's happening?
A: This camera is powered by solar energy. Expect streaming interruptions during low-light conditions, overcast, and unfavorable weather—when the camera has not received enough sunlight to power up.
Q: What's that shiny thing in the nest?
A: Sometimes, you may notice trash in the Osprey nest. Unfortunately, Ospreys are attracted to bright, shiny items like balloons and food wrappers. This serves as a good reminder for us humans—please don't litter!
Q: Who owns or operates your Audubon Live! cameras?
A: All cameras, except our Greenwich camera featured here (managed by Audubon Connecticut), are operated courtesy of Menunkatuck Audubon Society (MAS). Learn more about the MAS cameras here.
Q: A predator is at the nest, can you do anything about it?
A: Click here to view our cam/nest intervention protocol.
For questions or comments about this camera or the wildlife you see here, you can email Ryan MacLean, Bird Education Specialist at Greenwich Audubon Center, at Ryan.MacLean@audubon.org.
Enjoying the Osprey? Your donations to Audubon Connecticut help support the upkeep of cameras, and the places Osprey and other birds depend on.
The installation of this camera was made possible by a generous anonymous donor. Additional in-kind assistance was provided by the Riverside Yacht Club and Atlantic Marine Construction, along with the Menunkatuck Audubon Society and Audubon volunteers.
More ways you can help, right now
Join the Club
Through our Cardinal Club Monthly Giving Program, you can provide critical support for our conservation work. Your reliable gift will ensure we have the resources to protect nature in Connecticut.
Give the Gift of Nature
At Audubon, we work to protect nature for the benefit of birds, other wildlife, and people—through education, science, stewardship, and advocacy. Your support makes this critical work possible!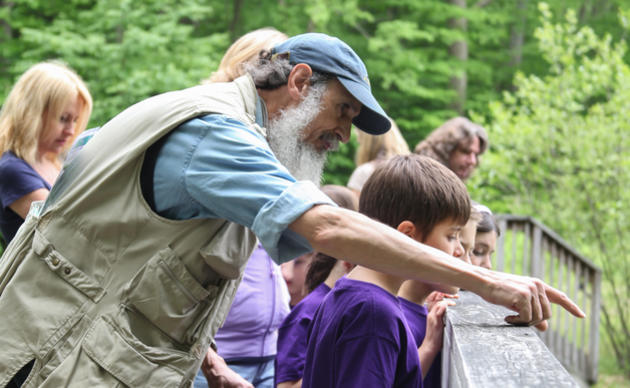 Leave a Legacy
Planned gifts of all sizes can have a profound impact on the vital conservation work we do. Consider extending your support beyond your lifetime by including Audubon in your plans.