November 14, 2016—In an announcement made by top federal and state environmental officials, Audubon Connecticut was honored to be one of 25 grant award recipients of the Long Island Sound Futures Fund (LISFF)—with a generous matching grant of $35,000 going towards the Audubon WildLife Guards (WLG), a coastal stewardship and youth conservation training program.
This award will bring the WLG funding total for the coming year to $70,100. The added support will allow the successful WildLife Guards program to continue by employing 10 students to encourage 3,000 members of the public to share 9.85 acres of coast with beach-nesting coastal waterbirds; and providing coastal stewardship training to 25 municipal employees to add to student stewardship efforts at Pleasure Beach in Bridgeport, Connecticut. The project will allow residents to enjoy the beach and allow Piping Plover and Least Terns to nest successfully.
At the same time, this program will continue to have a significant impact on the participating students. One student who served as a WLG for four seasons recently explained: "I've been told my speech has improved tenfold and it was thanks to this program that I obtained these skills in the first place. It was probably because of this job that I got into my top college. I'm very thankful to have been a part of this program." Another student expressed her gratitude for the WLG program, saying "I just wanted to say thank you for this opportunity to become a WildLife Guard. Without this job, I don't think I would have found this amazing interest (birdwatching) of mine. I am forever grateful."
The LISFF is a public-private grant program, which pools funds from the U.S. Environmental Protection Agency, National Fish & Wildlife Foundation, and the U.S. Fish & Wildlife Service to support local government and community group projects that aim to protect and restore the Long Island Sound. Stretching more than 110 miles into the Atlantic, with 600 miles of coastline, the Sound is home to hundreds of species of fish, birds, and other animals.
Millions of people visit the Sound each year to swim, boat, and enjoy the beauty—enriching their own lives and stimulating the local economy. Maintaining this area as a healthy ecosystem, while balancing human uses, presents a challenge. Audubon Connecticut extends a heartfelt thank you to the LISFF funding organizations for the $1.3 million in total awarded to improve the health and ecosystem of Long Island Sound and to the other 24 LISFF grant recipients from Connecticut and New York for their on-the-ground efforts.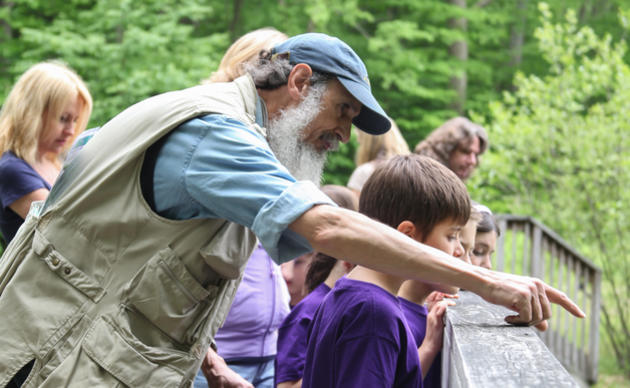 Give the Gift of Nature
At Audubon, we work to protect nature for the benefit of birds, other wildlife, and people—through education, science, stewardship, and advocacy. Your support makes this critical work possible!