It's no secret…invasive plants, and the myriad of ecosystem troubles they bring, are a major problem all land stewards face today. In Connecticut, the landscape is changing as more and more invasives take hold, choking out native plants that provide the food, shelter, and clean water our birds and other wildlife need to survive. The fight against invasives can sometimes seem like nothing but a losing battle. However, when dedicated individuals come together to take a stand—amazing habitat restorations take place.
Thanks to leading efforts of the Menunkatuck Audubon Society, beneficial native wildlife habitat at West River Memorial Park in New Haven is on its way to making a comeback. As a recognized Audubon Important Bird Area (IBA) and home to an Urban Oasis, the park is a critical place to focus on for high-impact conservation. The habitat project started in fall 2016 with the seeding of a native grass and wildflower meadow.
With the help of project partners, the New Haven Bird Club and the West River Watershed Partnership, work to expand the meadow and Urban Oasis area and improve habitat continued in 2018. Invasive plant removal and replacement with native species is the key focus of the expansion project, which is being made possible through funding from the Audubon Connecticut IBA Small Matching Grants Program and Plants for Birds Burke Grant Program.
The project includes extensive invasive plant removal (like mugwort and phragmites), planting 200 native shrubs along a critical marsh area, enhancing the meadow by planting 700 perennial plugs, and planting an abundant seed plot along the border of the meadow and existing Urban Oasis. When complete, the expanded area will provide additional food and cover for resident and migrant birds as well as a wide range of butterflies, insects, and other wildlife that are part of the local ecosystem. The seeds of meadow wildflowers and perennials incorporated throughout the restored habitat will not only feed birds but will also nurture and expand the habitat as they self-sow throughout the area.
As of July 2018, approximately half the new plantings were in place and observations of changing bird behavior already took place. Wild Turkeys are one the park's resident birds, which are typically been seen on the margins of the park. With the new plantings, a Wild Turkey hen with her eight poults has been seen spending time in the project area. It will be exciting to see what other birds and wildlife will visit the area as the plantings mature.
West River Memorial Park is located at 200 Derby Avenue in New Haven, Connecticut. Menunkatuck Audubon Society is a chapter of National Audubon Society serving the towns of West Haven, New Haven, East Haven, Branford, Guilford, and Madison.
To learn more about the Menunkatuck Audubon Society, visit menunkatuck.org.
To discover plants that you can plant to help create a bird-friendly habitat, visit ct.audubon.org/plants-for-birds.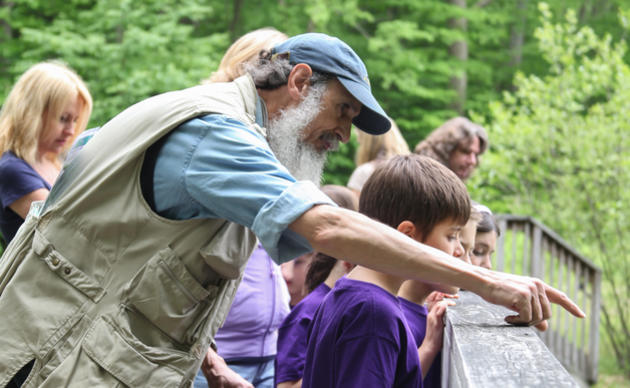 Give the Gift of Nature
At Audubon, we work to protect nature for the benefit of birds, other wildlife, and people—through education, science, stewardship, and advocacy. Your support makes this critical work possible!