On October 26, 2017, after approximately 123 days without a budget, Connecticut state lawmakers passed a two-year bipartisan compromise budget bill. Although the Governor was not in favor of the many provisions included in the budget agreement, he signed it into law on Tuesday, October 31, 2017. Select here to view Governor Malloy's press statement.
Audubon Connecticut made fair inroads on our priority issues this year within a very constrained state budget. While most of the programs that positively impact Connecticut's rivers and the birds, other wildlife, communities, and economies that depend on them received decreased funding, cuts could have been much worse as proposed in earlier crafted versions of the budget.
With respect to Audubon Connecticut's priorities, here's how we fared on key programs and issues within the two-year budget deal for FY 2018 and FY 2019:
The Community Investment Act – The CIA is the only dedicated fund intended to support investments in Open Space, Farmland/Dairy Support, Historic Preservation, and Affordable Housing. The program will be cut by $5 million in each of the next two fiscal years.
The Council of Environmental Quality – CEQ has served as the state's independent environmental watch-dog agency since 1971. The agency produces reliable and valuable independent analyses of trends on environmental issues in our state, which guide the implementation of public programs through the Connecticut Department of Energy & Environmental Protection (DEEP). CEQ is funded in both fiscal years. In the first fiscal year, the council is fully funded through the General Fund. In the second fiscal year, it will be funded through new revenue generated from the Passport to Parks program. Thankfully, CEQ lives!
Clean Energy Funds from the Regional Greenhouse Gas Initiative (RGGI), CT Green Bank, and CT Energy Efficiency Fund – Through regional approaches financed by ratepayer funds, jobs have been created, public health improved, carbon emissions lowered, and a new economy built around affordable, reliable solar power and energy efficient initiatives have been forged. Unfortunately, in order to close huge deficits, the budget relies on a diversion of money from ratepayer-funded clean energy programs to the state's General Fund. The budget shortsightedly sweeps a total of approximately $87.5 million per year from the three energy programs. RGGI will receive a $10 million annual cut, the CT Green Bank a $14 million annual cut, and CT Energy Efficiency Fund a $63.5 million annual cut.
DEEP's Budget – Significant cuts and annual recessions were taken from the Clean Air, Environmental Conservation, and Environmental Quality accounts. We will be closely monitoring the impacts of these cuts and recessions on DEEP and the programs that serve our priorities, the effect of the reduction in regulatory review timeframe, and the benefits of new revenue from the Passport to Parks program. From the very beginning, Audubon Connecticut has been at the table with the Connecticut Forest & Park Association advocating for the inclusion of a new revenue source to fund our state parks, while preventing drastic cuts to DEEP programs. Passport to Parks was included in the budget, with revenue going to a dedicated, non-lapsing fund subject to legislative appropriation. The program is expected to generate $6.1 million in FY 2018 and $13.9 million in FY 2019. It will be up to us to remain vigilant and make sure that the revenue generated through these programs ends up funding the program's intended purpose. Select here to read more about the program.
90 Day Provision – Included in the budget is language requiring DEEP to rule on a permit application within 90 days. If the agency does not rule within 90 days, the application is automatically approved. Here is the list of permits the new law applies to: Air permits for the temporary use of radiation DTX or the temporary use of radiation RMI; aquifer protection registration; aquifer protection; certificate of permission; coastal management consistency review form for federal authorization; emergency authorization to discharge to groundwater to remediate pollution; property transfers; disposal of special waste; marine terminals; pesticide application by aircraft; pesticides in state waters; waste transportation; E-waste: Manufacturer; E-waste: Covered recycler; emergency discharge authorization; online sportsmen licensing system; state park passes and bus permits; state parks and forests special use licenses; campground reservations; other camping permits; boating permits; safe boating certifications; marine event permits; marine dealer certificates; navigation marker permit; regulatory marker permit; water ski slalom course or jump permit; fishing tournaments; inland fishing licenses; marine recreational and commercial licenses; hunting and trapping; nonshooting field trial; private land shooting preserve permit; regulated hunting dog training applications; scientific collection permit for aquatic species, plants and wildlife, and for educational mineral collection; commercial arborist; licensed environmental professional, pesticide certification licensing and registration; solid waste facility operator; wastewater treatment facility operator certification; commercial fishing licenses and permits; forest practitioner; nuisance wildlife control operator; taxidermist, and wildlife rehabilitator.
Audubon Connecticut will provide updates on how our priorities will be impacted in FY 2018 and FY 2019 as this budget is implemented. Many thanks for your continued support and advocacy!
Contact Audubon Connecticut

by

email

with questions or for more information.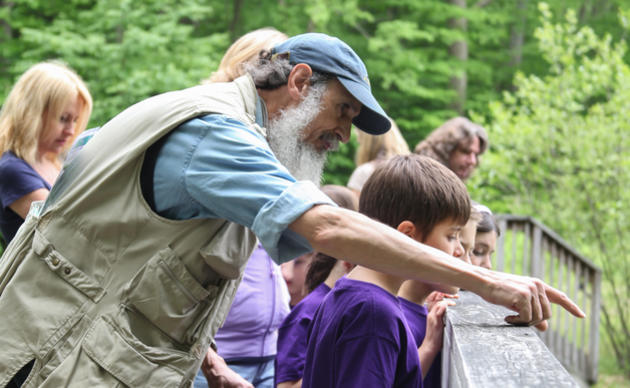 Give the Gift of Nature
At Audubon, we work to protect nature for the benefit of birds, other wildlife, and people—through education, science, stewardship, and advocacy. Your support makes this critical work possible!