By Corrie Folsom-O'Keefe, Audubon Connecticut Bird Conservation Programs Manager
September 12, 2017 ​— Great steps were taken towards making Connecticut safer for beach-nesting birds during summer 2017. Eight Bridgeport high school students and four West Haven high school students received training, mentoring, and 7-weeks of employment as WildLife Guards (WLG) at Bridgeport's Pleasure Beach and West Haven's Sandy Point. Through Audubon Connecticut's WildLife Guard Program, these youths served as official monitors, tasked with tracking the reproductive success of state-threatened, beach-nesting Piping Plovers, Least Terns, and American Oystercatchers, and sharing their knowledge and engaging the public in the protection of the health of Long Island Sound. And for the first time, the program hired three WLG alumni as crew leaders—an excellent example of the environmental stewards of the future, leading and inspiring others.
Why Do We Need WildLife Guards?
Coastal waterbirds who nest on the ground are incredibly vulnerable due to the high threat of trampling, nest disturbance, and predation during summer. Peak bird nesting coincides with the beach-going season when tens of thousands of people visit areas like Pleasure Beach and Sandy Point. Concurrently, urban communities such as Bridgeport (both the largest and one of the poorest cities in Connecticut) face strong environmental inequities around access to nature, water/air quality, and opportunities for students to engage in outdoor learning. Additionally, urban coastal residents often have limited access to natural areas and waterways, and typically view conservation efforts as an impediment to economic growth.
However, studies show that public engagement can ensure that communities arrive at effective, collaborative strategies to reduce human impact on shorebirds and provide long-term habitat protection. As a result, Audubon Connecticut and its partners created the WildLife Guards Program in 2012 to help protect Pleasure Beach (one of the largest blocks of undeveloped coastal habitat remaining in Connecticut) and to provide educational opportunities for high school students from underserved communities. Today, through partner collaboration and critical funding support, the program is serving as a replicable model for conservation, urban youth employment, and green jobs training that protects nesting habitat and fosters community involvement.
More About the Program
Over the course of the seven-week program, the WildLife Guards first observe and then work together to deliver public programs that promote environmentally-sustainable recreation and engage target audiences in hands-on activities focused on protecting the living resources of Long Island Sound—including taking the "Be a Good Egg" pledge to give nesting birds space and keep the beach clean of trash that attracts predators. From setting up a touch tank to leading bird and plant identification walks, the Guards help residents (many of whom are a non-traditional audience of conservation programs) come to value their community's natural resources and take actions to protect them. The result is beach areas that all residents can enjoy and where birds can nest successfully.
WildLife Guards is an innovative program that engages local high school students to serve as leaders to their peers and the larger community, provides employment and green job skills to underserved youth, and will ultimately help the local community develop a deeper appreciation of the natural resources that provide economic, recreational, and environmental benefits to this urban area. From 2012-2017, 40 students have served as Audubon Connecticut WildLife Guards.
To learn more about what the WildLife Guards were up to this season, visit their Facebook page.
A special thank you to our partners, Roger Tory Peterson Institute, the City of Bridgeport, and the City of West Haven, for helping to make the 2017 WildLife Guards Program season a success.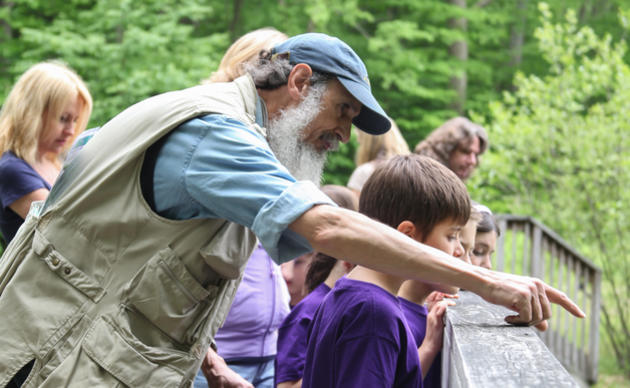 Give the Gift of Nature
At Audubon, we work to protect nature for the benefit of birds, other wildlife, and people—through education, science, stewardship, and advocacy. Your support makes this critical work possible!