The Department of Energy and Environmental Protection Agency (DEEP) held the first meeting of the Commission for Environmental Standards this month, and Audubon Connecticut took our seat at the table.
We are pleased to announce that Corrie Folsom-O'Keefe, our Director of Bird Conservation, is serving in this exceedingly important role.
As part of the implementation of H.B. 7156, AN ACT CONCERNING THE PROCUREMENT OF ENERGY DERIVED FROM OFFSHORE WIND, DEEP has convened the Commission of Environmental Standards (Commission) to provide input on best practices for avoiding, minimizing, and mitigating any impacts to wildlife, natural resources, ecosystems, and traditional or existing water-dependent uses.
The Commission is comprised of scientists, organizations, and members of regional working groups and will be tasked with facilitating public input and participation; synthesizing best practices and up to date information; and proposing recommendations for RFP terms and requirements.
"We were impressed with the caliber of the commission members," reports Folsom-O'Keefe, following the first committee meeting held on June 14th. "The members bring a lot of knowledge on birds, fisheries, wildlife, and ecosystems to the table."
While the bill authorizes Connecticut to procure up to 2,000 megawatts of offshore wind by 2030, it does not include a guarantee that bidders mitigate impacts on birds. It does include language requiring each bidder "include an environmental and fisheries mitigation plan for the construction and operation of… offshore wind facilities" to minimize and mitigate any impacts to wildlife, natural resources, and ecosystems. It further states these plans must include "an explicit description of the best management practices the bidder will employ that are informed by the latest science at the time the proposal is made that will avoid, minimize and mitigate any impacts to wildlife, natural resources, ecosystems."
There will be two opportunities for the public to provide input to DEEP and the Commission. DEEP requests that any pertinent materials (studies, reports, or other resources) be submitted to DEEP.EnergyBureau@ct.gov for the Commission to review by June 24, 2019. The public is also encouraged to submit input on the following questions:
1. What are the key elements of a fisheries and environmental mitigation plan?
2. What documentation should bidders provide to DEEP to meet each of the elements identified in response to Question 1?
3. What components of an offshore wind development should be covered in a fisheries and environmental mitigation plan (i.e. construction, interconnection, maintenance, operation, decommissioning, etc.)?
4. What key elements identified in response to Question 1 apply to each of the components identified in response to Question 3?
5. What other issues should be considered in developing a fisheries and environmental mitigation plan?
The second opportunity for public comment will start July 17th, when the draft report from the Commission will be released.
The Commission will conduct its work expeditiously "to ensure that best practices for environmental and fisheries mitigation can inform the final RFP that DEEP will issue by August 15, 2019" read a statement from DEEP.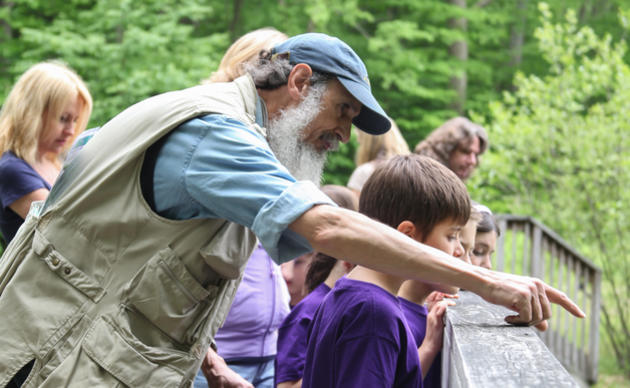 Give the Gift of Nature
At Audubon, we work to protect nature for the benefit of birds, other wildlife, and people—through education, science, stewardship, and advocacy. Your support makes this critical work possible!