If you live in Connecticut, there is a good chance you've heard of Two Roads Brewing Company. This Stratford-based craft brewery has grown in popularity by leaps and bounds since it was founded in 2012. Following a Robert Frost-inspired "road less traveled" philosophy, Two Roads is making waves with not only great beer, but also with a strong dedication to community. And at the heart of it all is Brad Hittle, co-founder and CEO of the Two Roads Brewing Company.
A former Chief Marketing Officer for the Pabst Brewing Company, Brad's vision for Two Roads began with the revitalization of the abandoned, century-old U.S. Baird building in Stratford. The mission—to preserve much of the building's industrial elements to bring character to the brewery and keep local history alive. Brad and the Two Roads team wanted to not only build a successful business, but also create something good for Connecticut. The result…a revitalization that took place inside and out of the building, with the brewery drawing more than 100,000 visitors to the area each year, employing more than 100 full-time employees, and producing nationally-recognized beer from Connecticut.
When asked why they chose Stratford as the location for Two Roads, Brad replied, "Stratford is a town with a great future ahead of it. To us, it had everything we were looking for, including a beautiful old factory building and a community who grasped and supported our vision. Stratford has an unusual number of geographical assets to enjoy ranging from Roosevelt Forest to Stratford Point, and a base of citizens who care about the town and support local businesses like Two Roads. You couldn't ask for a better place to start up a brewery."
More Than a Beer Maker
Beer isn't Brad's only passion. He also cares deeply for nature. Growing up on a tidal creek in Greenwich, Connecticut, had a huge impact on him and his connection with the environment. Brad recalls, "the waters of Long Island Sound were so polluted when I was a kid that we couldn't see our hand in front of us while swimming. And, chemical-producing companies would dump raw sewage into the tidal stream; a rainbow of chemicals could be seen floating downstream. It was slowly killing the environment, but through the collective efforts of agencies, conservancy groups, and businesses over the years, this awful trend was arrested and reversed. I recently competed in the 1-mile swim at Greenwich Point, in the very same waters I grew up in, and the difference in water quality is remarkable. As a nation, we truly can make things better!"
As a result, Brad also leads Two Roads' commitment to community as a friend of the environment and recognizing the importance of stepping up to protect the open spaces and natural wildlife habitats of Connecticut. They have chosen to put much of their efforts into supporting Stratford Point—a unique and beautiful 30-acre site that provides vital habitat for birds and other wildlife, located at the junction of the Housatonic River and Long Island Sound. "Anyone who simply visits Stratford Point immediately understands why it needs to be safeguarded," notes Brad. "It is a jewel of a place with a huge number of bird species and eco-systems that need protection. By helping to do this, and helping to enhance a place where children and adults can learn and become involved, Two Roads is making a small contribution to a very important place."
Since 2014, Two Roads has been donating proceeds from their annual beach run, the Shore 2 the Pour, to Audubon Connecticut's management of Stratford Point. Their funding is helping to create a sustainable, environmentally sound legacy for future generations through critical habitat rehabilitation and by providing a fresh water source for migratory bird species and year-round wildlife residents.
At Audubon, we raise our glass to and greatly appreciate Brad and Two Roads' shared dedication to nature. If you would like to also support the conservation work at Stratford Point, join Two Roads for Shore 2 the Pour on August 26, 2017, and/or make a donation to the Stratford Point campaign—where for every dollar the community donates to the Stratford Point Go Fund Me site, Two Roads and the Mayor John Harkin's Charity Golf Tournament together will match your donation to Audubon Connecticut dollar-for-dollar for the first $10,000 raised.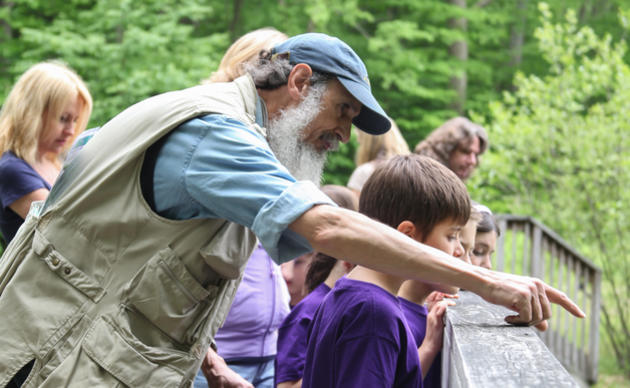 Give the Gift of Nature
At Audubon, we work to protect nature for the benefit of birds, other wildlife, and people—through education, science, stewardship, and advocacy. Your support makes this critical work possible!