Federal, state, and local officials gathered on January 18, 2017, in Dover, New York, to mark the establishment of the Great Thicket National Wildlife Refuge through the U.S. Fish & Wildlife Service's first land acquisition for the six-state refuge—the 144-acre Nellie Hill Preserve donated by The Nature Conservancy.
"With habitat that can easily be managed for New England cottontails and other young forest wildlife, the Nellie Hill Preserve is an excellent first land acquisition for Great Thicket National Wildlife Refuge," said Northeast Regional Director Wendi Weber of the U.S. Fish & Wildlife Service. "We are grateful for the close coordination and partnership with local and state officials and The Nature Conservancy that led to this exciting donation."
Nellie Hill, managed by The Nature Conservancy for 25 years, is a unique property with varying habitats and rare plants. Formerly grazing land for cows, the preserve has since become a hotspot for migrating birds and other wildlife. From the rocky summit of a 120-foot cliff, visitors can view grasslands, sloping meadows, oakwood forests, and limestone woodlands. Five springs and two ponds provide a constant water source for wildlife throughout the year. The property is close to other protected lands that serve as important wildlife habitats. The Service will work with the New York State Department of Environmental Conservation on shrubland habitat management of the property.
"The Nature Conservancy is proud to partner with the U.S. Fish & Wildlife Service and help kick start the creation of the Great Thicket National Wildlife Refuge," said Stuart F. Gruskin, Chief Conservation and External Affairs Officer for The Nature Conservancy in New York. "Donating the Nellie Hill Preserve to the Service is a great example of leveraging conservation opportunities to achieve the greatest potential outcomes for nature and people."
Making This Refuge a Reality
Great Thicket National Wildlife Refuge officially became the 566th national wildlife refuge on December 14, 2016, with the acquisition of Nellie Hill. The Service finalized the creation of Great Thicket National Wildlife Refuge in October 2016 following an extensive public process. Plans for the refuge were proposed in early 2016 through a draft land protection plan and environmental assessment that (thanks partner outreach efforts like that of Audubon) received more than 6,000 comments—more than 90 percent of which were supportive.
Dutchess County Executive Marcus J. Molinaro said, "The collaborative effort between the County of Dutchess, Town of Dover, and U.S. Fish & Wildlife Service, has resulted in the use of the existing Nellie Hill Preserve to establish the Great Thicket National Wildlife Refuge. This balances the desired ecological goals with the concern of economic impacts."
Town of Dover Supervisor Linda French added, "We are proud to be working hand in hand with the U.S. Fish & Wildlife Service's National Wildlife Refuge System to ensure that properties are preserved to protect the wildlife and the environment. Dover is very involved with ecotourism, so the lands that are protected will remain so for all generations. I know as we all go forward as a team we will always do the right thing especially for the Town of Dover."
Now that the refuge is formally established through the first land acquisition, the agency will continue coordinating with government and private, nonprofit partners to engage willing and interested landowners in 10 target areas of six states (Connecticut, Maine, Massachusetts, New Hampshire, New York, and Rhode Island) to acquire up to 15,000 acres through various methods, including conservation easements, donations or fee-title acquisition. Current refuge staff would manage all acquired lands within existing resources.
The process is expected to take some time, as the Service works strictly with willing sellers only and depends on funding availability to make purchases. Lands within an acquisition boundary would not become part of the refuge unless their owners sell or donate them to the Service; the boundary has no impact on how landowners can use their land or to whom they can sell.
Refuge Benefits
The nation's newest wildlife refuge joins the largest network of lands in the nation dedicated to wildlife conservation, with 565 other national wildlife refuges—at least one refuge in every state—and other protected areas covering more than 850 million acres. A hundred years in the making, the refuge system is a network of habitats that benefits wildlife, provides unparalleled outdoor experiences for all Americans, and protects a healthy environment.
Wildlife refuges provide habitat for more than 2,100 types of birds, mammals, reptiles, amphibians, and fish, including more than 380 threatened or endangered plants or animals. Each year, millions of migrating birds use refuges as stops to rest and refuel on their journeys of thousands of miles between their summer and winter homes.
National wildlife refuges do not just provide a boost to wildlife. They are strong economic engines for local communities across the country and provide intrinsic value to all Americans. A 2015 national report, Banking on Nature, found that refuges pump $2.7 billion into the economy and support more than 39,000 jobs. They are also excellent venues to hunt, hike, bike, boat, observe wildlife, and more.
(Source: U.S. Fish & Wildlife Service press release January 18, 2017)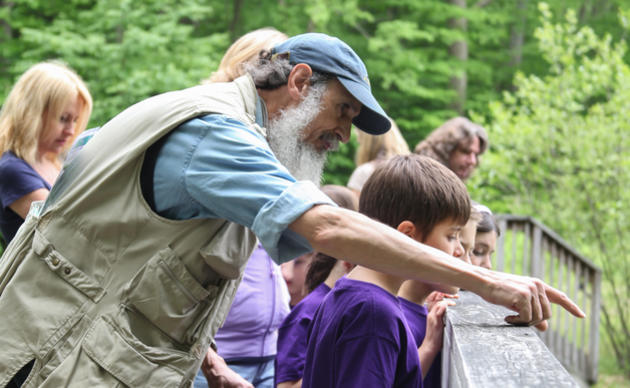 Give the Gift of Nature
At Audubon, we work to protect nature for the benefit of birds, other wildlife, and people—through education, science, stewardship, and advocacy. Your support makes this critical work possible!