June 1, 2016—Audubon Connecticut, the state office of the National Audubon Society, has recognized areas held by three municipalities and two land conservation organizations as Important Bird Areas (IBA).
Municipal properties include New Haven's West River Memorial and Edgewood Parks, the District of Willimantic, and Redding's Couch Hill Preserve. The New Haven parks are important to migrating songbirds, host Rusty Blackbirds—a species of global concern—in the winter, and most recently support a nesting pair of Bald Eagles. In the District of Willimantic, large chimneys, including that of the Windham Town Hall, are used by upwards of 250 Chimney Swifts—another species of global concern—in the summer and many more birds make use of the chimneys as nocturnal roosts during spring migration. Couch Hill Preserve is one of the most important nesting sites for the grassland nesting Bobolink in Fairfield County.
Aton Forest Inc. in Norfolk, Connecticut and Naromi Land Trust's Wimisink Marsh in Sherman have also been recognized as IBAs. Aton Forest supports a wide diversity and high numbers of woodland nesting birds and has also seen quite a bit of activity by Sandhill Cranes, which would be added to Connecticut's Endangered, Threatened, and Special Concern Species list if a nest were discovered. At Wimisink Marsh, a pair of American Bittern, an endangered species in Connecticut, produced three offspring in 2014. Wimisink is also an excellent example of a healthy freshwater wetland and hosts species restricted to this habitat type.
The overall goal of Audubon Connecticut's IBA program is to identify a network of key areas in the state that support sustainable populations of birds in greatest need of conservation. For official recognition as an IBA, the site must meet one or more of a set of standardized scientific criteria that were developed by a committee of bird experts from throughout the state. Once an area is identified as an IBA, Audubon Connecticut works with the landowner, other conservation partners, and the public to increase awareness about birds and the importance of the area to greatest conservation need species, improve habitat in the area, and find funding to support these efforts. Connecticut's IBA program is part of a global effort by BirdLife International to identify the areas most important to birds and to focus conservation efforts where they will do the most good. The National Audubon Society administers the IBA program in the United States.
According to Corrie Folsom-O'Keefe, Audubon Connecticut Important Bird Areas Program Coordinator: "All of these areas are important to bird species of conservation concern. They are also places where the municipality or land conservation organization is actively managing or working to improve habitat for birds." When the Windham Town Hall chimney needed work, the Town worked with Connecticut Department of Energy & Environmental Protection and a UCONN biologist to ensure that the Chimney Swifts could still call the chimney home. The mowing regime employed by the Town of Redding to maintain Couch Hill gives Bobolinks adequate time to nest while ensuring that the habitat remains open. Aton Forest Inc. continues to acquire adjacent lands, increasing the area of protected habitat for birds and other wildlife.
Working with the City of New Haven, Audubon Connecticut will be officially designating West River Memorial and Edgewood Park as an IBA at an event at Barnard Nature Center (200 Derby Ave., New Haven) on Saturday, June 11, 2016 from 11 a.m. - 3 p.m. (rain date: June 12). The event, which is open to the public, will be a celebration of all the IBAs in New Haven and will include the launch of the nature center's Osprey Camera, a bird banding demonstration, canoe trips along the West River, bird walks, and more. The Osprey Camera is a collaborative project between the Menunkatuck Audubon Society; New Haven Parks, Recreation, and Trees Department; New Haven Public Schools; Barnard Nature Center; and Barnard Environmental Studies Magnet School and can be viewed at: menunkatuck.org/west-river-memorial-park-osprey-camera.
Contact: Corrie Folsom-O'Keefe, Audubon Connecticut Important Bird Areas Program Coordinator, email, 203-405-9116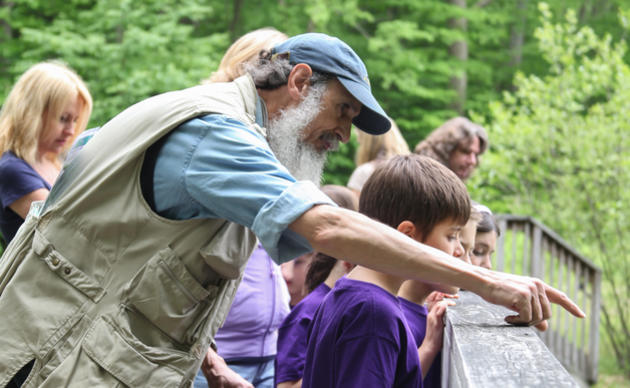 Give the Gift of Nature
At Audubon, we work to protect nature for the benefit of birds, other wildlife, and people—through education, science, stewardship, and advocacy. Your support makes this critical work possible!