What do birders and craft beer-lovers have in common? We like to talk body, head, and color! Next time you venture out with your binoculars, consider the list of great birding locales below, where one can also easily find a refreshing pint (or glass of wine or whisky) nearby.
PS: Got a pairing to share? Email ct@audubon.org with your recommendation!
PAIRING MENU
In alphabetical order by location.
Stony Creek Brewery & Osprey platforms everywhere (Branford, CT)
BIRDS: Given its extensive estuary marshes, Branford is an ideal summer breeding area for Osprey. The Branford Land Trust alone maintains over 30 nesting platforms, and nests have been spotted on telephone poles, cellular towers, even on the lights at the Branford Hornets Football stadium.
BREWS: You'll know you've arrived at Stony Creek Brewery when you spot the bright orange Great Blue Heron, "Big Cranky." Sitting on the shore of the Branford River, the brewery's back porch is a great place to keep your bird count going – from a seated position.

High Nine Brewing & Deep River Landing (Deep River, CT)
BIRDS: Head out to the waterfront and hang out on the benches of Deep River Landing for a serene morning of eagle watching. The Lower Connecticut River stays ice-free most of the winter season, making it a favorite fishing spot for our nation's iconic species.
BREWS: High Nine Brewing is just around the corner, a great place to warm up after winter birding with a beer and an energizing game of foosball.

Beer'd Brewing & Bluff Point (Groton, CT)
BIRDS: According to the Long Island Sound Study, Bluff Point is often considered the last significant undeveloped area on the Connecticut coastline. The 800-acre site contains a variety of habitats from grasslands to tidal wetlands, making it an ideal nestin and resting spot for more than 200 bird species, including various herons, hawks, cormorants, and the federally endangered Piping Plover.
BREWS: Beer'd Brewing (their logo is a bearded man) enjoys wordplay, and we think they should consider a new bird-featured brew to go along with their "Cold as Weisse" and "Frank & Berry" options. Piping Plover Pale Ale anyone?

Kent Falls Brewing Company (Kent, CT) & Macricostas Preserve / Lake Waramaug (New Preston, CT)
BIRDS: The 238-acre preserve offers almost every type of habitat you can image, from meadows and woodlands, to wetlands and rocky ridges. Those looking for a challenge can hike to Waramaug's Rock – which sits at an elevation of 1250 feet and provides visitors with picturesque views of Lake Waramaug – and scout for hawks, or stick to the flat meadow trails and seek out the warbling songbirds.
BREWS: We aren't sure which is more of a draw at Kent Falls Brewing Co., the beautiful setting or the delicious craft beer. Either way, this dairy farm turned farm brewery is a must-visit!

East Rock Brewing Company & East Rock Park (New Haven, CT)
BIRDS: East Rock Park is an Important Bird Area and spring migration hot spot for warbler species that migrate along the coast, like the Canada Warbler, Northern Waterthrush, Nashville Warbler, and Magnolia Warbler. It is also an important nesting site for raptors. More than 200 species have been spotted in this urban park in total.
BREWS: After bird watching, enjoy people watching at East Rock Brewing's cheerful, open beer hall. In the late nineteenth century, the property was home to Miller's Garden, an outdoor venue where hundreds of townspeople gathered for weekly functions in the warmer months – much like our spring migrants!

Reverie Brewing Company (Newtown, CT) & Bent of the River Audubon Center (Southbury, CT)
BIRDS: Visit the Bent of the River Audubon Center in early spring to witness male American Woodcocks peenting and flying in low circles, climbing higher and spinning until they are 200 to 300 feet in the air. The rapid wing beats create a musical sound and at the apex of his flight the woodcock sings a variable series of liquid notes. If you're lucky, you may even witness the woodcock's mating dance.
BREWS: After exploring the trails at the Bent, head on over to Reverie Brewing Company and enjoy their "Beaten Path" Pale Ale in the laid-back atmosphere. You are even free to bring in your own favorite snacks!

Athletic Brewing Co. & Great Meadows Marsh (Stratford, CT)
BIRDS: A $4M restoration project across 38 acres of salt marsh habitat at the Great Meadows Marsh has transformed this important place into a haven for birds and other wildlife! In particular, the project has created nesting habitat for the Saltmarsh Sparrow, in the hopes of easing this birds' rapid decline.
BREWS: After taking in the incredible views of the newly-restored Great Meadows Marsh, enjoy a non-alcoholic beer at Athletic Brewing's Stratford tap room!
Two Roads Brewing Co. & Stratford Point (Stratford, CT)
BIRDS: Stratford Point is a little slice of heaven for the Semipalmated Sandpiper, Semipalmated Plover, and Black-bellied Plover, which gather by the hundreds to roost at this coastal sanctuary. In fall, sparrows drop by the garden or grassy areas to feed. It is important to look hard at each sparrow because there may be a Clay-colored Sparrow or Grasshopper Sparrow among the more common sparrow species!
BREWS: Each year, Two Roads' "Shore 2 the Pour Charity Beach Run" takes runners through the pristine Stratford Point bird sanctuary – certainly a road less traveled! Check out their year-round, seasonal, sour, special, and limited release menus here.

Litchfield Distillery & Litchfield White Memorial Foundation (Litchfield, CT)
BIRDS: White Memorial Foundation is a nature preserve with a diverse mixture of habitats, including mature deciduous and evergreen forests, wetlands, streams, and swamps. Because of this diversity, White Memorial supports 18 breeding warbler species. State-listed species, including American Kestrels, Cooper's and Sharp-shinned Hawks, have nested at White Memorial. Redheads, mallards, Blue-winged Teal, American Coot, Pied-billed Grebes, and American Black Ducks can all be found on Bantam Lake in migration.
BREWS: Then, a tour, tasting, and toast at Litchfield Distillery. They source quality grains and fruit from local farmers to batch their spirits. Maybe one day soon they'll use apples from Bent of the River's orchard project.

New England Brewing Co. & Konold's Pond / West Rock Ridge State Park (Woodbridge, CT)
BIRDS: Konold's Pond (really a lake) is an eBird hotspot for ducks and other waterbirds: 140 species have been spotted at this location, including Ring-necked Ducks, Bufflehead, Hooded Merganser, and American Coot.
West Rock Ridge State Park is famous for its breeding Peregrine Falcons. In fact, it was home to the state's first breeding pair post-DDT era. Since then, seven different females and seven different males have occupied the cliff face.
BREWS: After admiring the fuzzy ducks (or checking out the not-as-fuzzy raptors), give your own taste buds a fun time with New England Brewing Co.'s Fuzzy Baby Ducks IPA, brewed and dry hopped with nothing but Citra hops for a big mango, papaya, and citrus taste.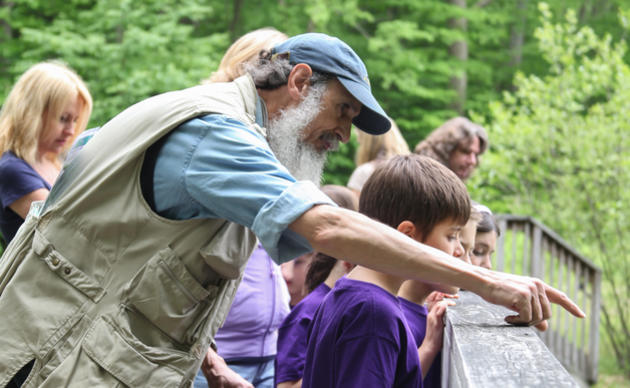 Give the Gift of Nature
At Audubon, we work to protect nature for the benefit of birds, other wildlife, and people—through education, science, stewardship, and advocacy. Your support makes this critical work possible!