On January 8, 2017, Audubon Greenwich celebrated the Grand Reopening of its Hilfiger Children's Learning Center. The event was kicked off by a ribbon-cutting ceremony with Tommy Hilfiger and his son Sebastian. More than 200 visitors enjoyed a live animal show with Curious Creatures, storytelling, nature crafts, live music with Whitby school's music teacher, Mr. Vinny, and a variety of other activities. Audubon Senior Naturalist Ted Gilman helped families observe winter bird behavior from the warmth of the Center's large bird-viewing window and then guided them on how to enter their observations into a web-based citizen science database, Project FeederWatch. Students from Whitby School volunteered for the afternoon, helping younger children create animal figures using twigs, leaves, and other items from nature.
The Hilfiger Children's Learning Center—a wing of the Kimberlin Nature Education Center building at Audubon Greenwich's Main Sanctuary (613 Riversville Road)—is an engaging, hands-on indoor learning space that enables children and their families to learn about the wildlife and habitats that they can discover at the 285-acre sanctuary. The Learning Center was named for the Hilfiger Family when the Kimberlin Nature Education Center building opened in 2002, replacing the original nature center building that was located in a historic barn that is on the property. The Hilfiger Family Foundation contributed generously to the capital campaign.
"My family has been involved with the Audubon Center in Greenwich for many years, and the entire family continues to enjoy the lifelong connection to nature," says Tommy Hilfiger. "The Hilfiger Children's Learning Center is an inviting place to bring the family, where children can explore, discover, and have up-close encounters with animals."
Audubon refurbished the Learning Center as a result of a flood that took place in 2014. Several of the exhibits were destroyed in the flood, and staff had the opportunity to use funds from the insurance settlement ($165,000) to re-envision the layout and exhibits in the Learning Center. A large round room that occupied the central area of the Learning Center and contained a high-tech exhibit on the "Systems of Nature" was completely removed, resulting in a much more open layout. Now, the large bird-viewing window, previously hidden behind the round room, is immediately visible upon entering the Learning Center and invites visitors to enjoy the view of the wide variety of birds visiting the feeders and the beautiful meadow behind the Center.
The new design of the Learning Center includes an inviting space with comfortable sofas where parents can relax while their children play—coffee and fresh pastries are also available on weekends. "Our goal with this refurbishment is to make the Hilfiger Children's Learning Center a regular meet-up spot for parents and their children," says Audubon Greenwich Director Michelle Frankel. "The new exhibits and live animal displays are even more hands-on and designed to really spark children's natural sense of wonder."
Thousands of families enjoy the Learning Center each year, and it provides a welcome indoor space on cold, winter days where children can engage in fun and educational activities. Among the new exhibits is the Climbing Island where children crawl and climb through a forest scene—complete with native plants and sculpted animals—to get an up-close view of the live animals housed within, including Eastern Box Turtle, Wood Frog, and a Black Rat Snake. Older children and adults can enjoy the new Research Nook, where future scientists can use a video microscope to inspect various specimens from different habitats around the sanctuary. Rather than the individual experience of a normal microscope, the video microscope broadcasts an image to a large flatscreen monitor, allowing groups of guests to participate.
Another new exhibit, "In Your Own Backyard," invites children to transform a magnetic illustration of a typical sterile backyard into a healthy habitat for birds and other wildlife by adding birds and native plants, showing visitors the connections between what you plant and what can thrive in your yard. Nearby is more adult-oriented information on how to create a bird-friendly yard.
The Hilfiger Children's Learning Center, like the rest of Kimberlin Nature Center at Audubon Greenwich, is open Monday thru Friday from 9:00 a.m. to 5:00 p.m. and Saturdays and Sundays from 10:00 a.m. to 5:00 p.m. The trails on the sanctuary property are open 7 days a week from sunrise to sunset.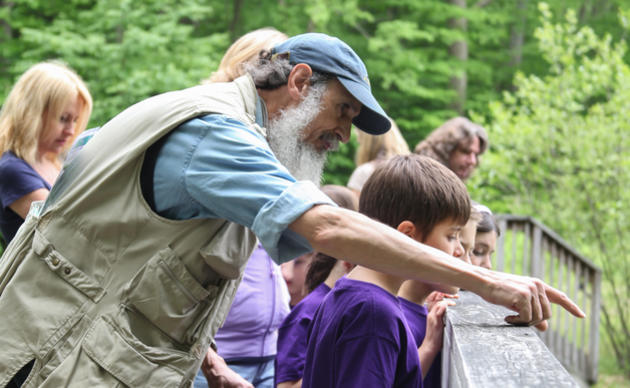 Give the Gift of Nature
At Audubon, we work to protect nature for the benefit of birds, other wildlife, and people—through education, science, stewardship, and advocacy. Your support makes this critical work possible!