Wednesday, December 19, 2018— Audubon Connecticut is honored to announce that two generous grants have been awarded to advance their Urban Oases program, which is part of their state-wide Bird-Friendly Communities initiative that works to restore and create enhanced green spaces for birds, other wildlife, and people.
On July 19, 2018, the National Fish and Wildlife Foundation's (NFWF) Five Star and Urban Waters Restoration Program awarded $49,994 to Audubon Connecticut's "Urban Oases in the New Haven Watershed" project, which works to engage local residents in the restoration of urban green spaces in parks and schoolyards. Also a designated Urban Wildlife Refuge Partnership project, this effort is dedicated to the improvement of watershed health and re-establishment of quality habitat for migratory birds while also addressing critical community needs in underserved neighborhoods in greater New Haven.
"These funds will make a huge difference in expanding and supporting our conservation and community-building work in greater New Haven, which is a designated Urban Bird Treaty City," said Kate Blake, Audubon Connecticut's Bird-Friendly Communities Manager. "With approximately 860,000 people living in the metropolitan area, it is critical to the health and well-being of all that we provide local habitats where birds and people can access nature. Audubon is thrilled that with these funds we will be able to establish two new Urban Oases in the coming year—one at Momauguin School in East Haven and the other at a park site jointly stewarded by the Prospect Land Trust and City of Prospect. These additions will bring the Urban Oases total to 31 in the New Haven Harbor Watershed, 16 park sites and 15 schools."
On December 4, 2018, the Long Island Sound Futures Fund (LISFF) also awarded $44,918 to the Audubon Connecticut Urban Oases program. Thanks to this funding, Audubon will be able to continue to implement in 2019 community-based education, conservation, and outreach efforts to enhance the precious habitats around Long Island Sound throughout the City of New Haven and Town of Hamden, Connecticut. The project will engage 12,000 people in local environmental education to increase the availability of habitat in urban parks and schoolyards for migrating birds and other wildlife.
At a December 4th press conference at the Barnard Nature Preserve in New Haven, Connecticut, U.S. Senator Richard Blumenthal gathered with leaders and partners from Connecticut conservation organizations (including Audubon Connecticut, Menunkatuck Audubon Society, Neighborhood Housing Services of New Haven, New Haven Land Trust, New Haven Parks, and Save the Sound) to recognize the importance of the far-reaching conservation work happening in the area.
"This support is critical to the protection of Long Island Sound and the wildlife that lives here," noted Corrie Folsom-O'Keefe, Audubon Connecticut's Bird Conservation Programs Manager. "Without support from the National Fish and Wildlife Foundation, Long Island Sound Futures Fund, our partners, other supporters, and government leaders, it would be impossible for us to carry out much of our coastal habitat work. And when you think about all the good conservation efforts as a whole, it is amazing the magnitude of the impact we all make together. Audubon Connecticut is truly honored to be a part of this body of conservation work."
Long Island Sound is an estuary that provides economic and recreational benefits to millions of people while also providing habitat for more than 1,200 invertebrates, 170 species of fish, and dozens of species of migratory birds. Each of the grant projects contributes to a healthier Long Island Sound for everyone, from nearby area residents to those at the furthest reaches of the Sound. All 9 million people who live, work, and play in the watershed impacting the Sound can benefit from and help build on the progress that has already been made.
The Urban Oases program in New Haven is implemented by Audubon Connecticut in partnership with the City of New Haven Department of Parks, Recreation and Trees, New Haven Public Schools, Stewart B. McKinney National Wildlife Refuge, U.S. Fish and Wildlife Service New England Coastal Program, Common Ground High School, Urban Farm and Environmental Center, Urban Resources Initiative, Yale Peabody Museum, Menunkatuck Audubon Society, Southern Connecticut State University, and various park friends and community groups. The Urban Oases program is also generously supported by the Community Foundation for Greater New Haven, Disney Conservation Fund, U.S. Environmental Protection Agency (EPA), and U.S. Fish & Wildlife Service, in addition to the NFWF grants mentioned above.
Major funding for the National Fish and Wildlife Foundation's Five Star and Urban Waters Restoration Program is provided by NFWF's partnerships with the EPA, U.S. Forest Service, U.S. Fish and Wildlife Service, among others. To date, the NFWF has funded over 800 projects in 50 states, including the District of Columbia, Puerto Rico, and the U.S. Virgin Islands, through this program. More than $18 million in grants has leveraged more than $67 million in other funds or donated services.
The Long Island Sound Futures Fund grant program combines funds from the EPA and NFWF to support local government and community group projects that aim to protect and restore the Long Island Sound. The Long Island Sound Study initiated the LISFF in 2005 through the U.S. EPA's Long Island Sound Office and NFWF. To date, the Futures Fund has invested$19.6 million in 416 projects. The program has generated an additional $36 million in grantee match, for a total conservation impact of $55.6 million for locally based projects.
Select here for more information about Audubon Connecticut's Urban Oases program.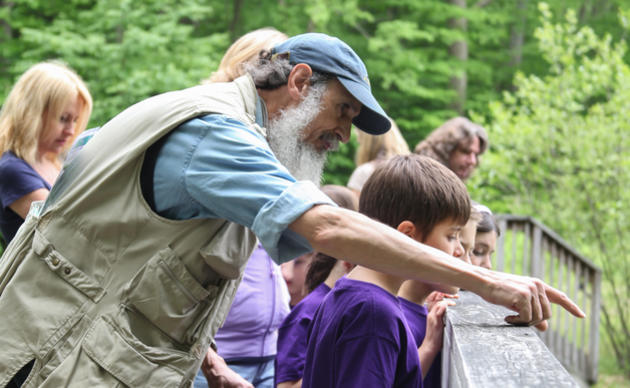 Give the Gift of Nature
At Audubon, we work to protect nature for the benefit of birds, other wildlife, and people—through education, science, stewardship, and advocacy. Your support makes this critical work possible!