By Stefan Martin, Audubon Connecticut Land Steward
Without a doubt volunteers are the lifeblood of conservation, working day in and day out to bring about incremental change. On Earth Day weekend 2018, conservation on the Connecticut shoreline made a huge leap forward. More than 130 volunteers rolled up their sleeves and came together at Stratford Point to help restore and protect a critical coastal habitat. Cub Scouts, Girl Scouts, school groups, nonprofit and conservation groups, families, friends, and even politicians came to lend a hand.
Over the course of a few days, more than 20,000 native plants were planted to help revive and safeguard Stratford Point from erosion. Beginning on Saturday, April 21, exchange students from a local program came to help prepare the site for easy installation. The majority of the plant plugs were planted on Sunday by more than 100 volunteers. The remainder of the planting took place on Monday and Tuesday with the help of students from Fairfield College Preparatory School and other volunteers.
The plant species that were installed include Indian grass (Sorghastrum nutans), big bluestem (Andropogon gerardii), American beachgrass (Ammophila breviligulata), switchgrass (Panicum virgatum), seaside goldenrod (Solidago sempervirens), and beach plum (Prunus maritima). The plants came from Pinelands Nursery in New Jersey, a highly recommended wholesale grower that specializes in growing native genotype plants and has been involved with Stratford Point restoration projects for years.
The Earth Day Weekend planting event was spearheaded by Sacred Heart University as part of its Living Shoreline project, a large-scale multi-year initiative designed to restore and sustain the resiliency and function of the Stratford Point coastal habitat in the face of climate change. Living Shoreline partners Audubon Connecticut and The Connecticut Audubon Society, as well as the Rotary Club of Stratford, all joined together with Sacred Heart to help make the effort a success. It's truly amazing what can be accomplished when conservation partners, volunteers, and a community come together.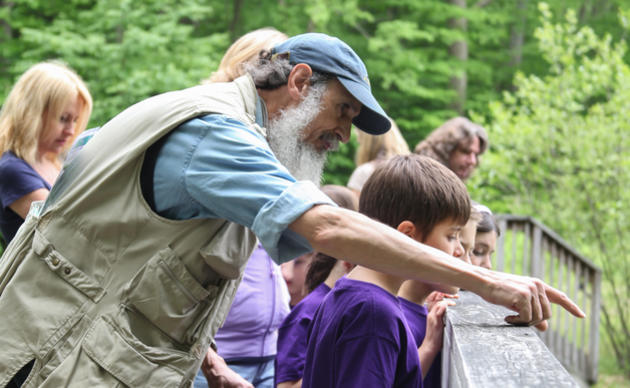 Give the Gift of Nature
At Audubon, we work to protect nature for the benefit of birds, other wildlife, and people—through education, science, stewardship, and advocacy. Your support makes this critical work possible!