Connecticut's legislative session ended this month, and our biennial budget passed the General Assembly.

With your support, and the leadership of our new Policy Director Robert LaFrance, we are advancing our advocacy work for birds and people on a state and national level.

Here is our recap of important budget proposals and bills affecting conservation efforts in our state.

Community Investment Act Protected
The Community Investment Act (CIA), an important source of funding for statewide conservation, passed as part of the budget. While the Governor's recommendations for 2019-2021 called for a major change that would make the CIA subject to lapse, the Appropriations Committee listened to our arguments and recommended the CIA remain a non-lapsing fund.

Offshore Wind Bill Passes, Audubon Joins Commission on Environmental Standards
House Bill 7156, concerning the procurement of energy derived from offshore wind, was signed into law by the Governor. It authorizes Connecticut to procure up to 2,000 megawatts of offshore wind by 2030. While the bill does not include a guarantee that bidders mitigate impacts on birds, it does include language requiring each bidder "include an environmental and fisheries mitigation plan for the construction and operation of… offshore wind facilities" to minimize and mitigate any impacts to wildlife, natural resources, and ecosystems.

The Public Act also requires the Commissioner of Energy and Environmental Protection to establish a "commission on environmental standards to provide input on best practices for avoiding, minimizing and mitigating any impacts to wildlife, natural resources, ecosystems and traditional or existing water-dependent uses."

We are pleased to announce that DEEP Commissioner Katie S. Dykes offered us a seat on this newly-formed commission, and we accepted. Corrie Folsom-O'Keefe, our Director of Bird Conservation, will serve in this exceedingly important role.

Our policy efforts are growing rapidly, and there's always more work to be done.

This year, we expect to take action on issues related to healthy coasts, resilient forests, and stalling the effects of climate change. We look forward to working with you to build a better future for birds and the next generation.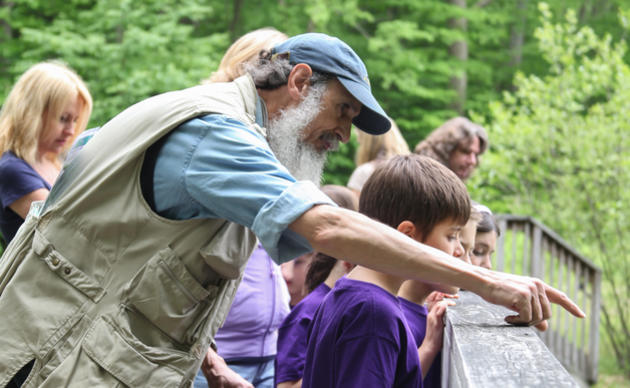 Give the Gift of Nature
At Audubon, we work to protect nature for the benefit of birds, other wildlife, and people—through education, science, stewardship, and advocacy. Your support makes this critical work possible!