In the Community
Gourmet Picnic at the Bent
Saturday, October 16, 2021
12:00pm - 4:00pm Eastern Southbury, Connecticut
Location Details
Bent of the River Audubon Center
185 East Flat Hill Road, Southbury, 06488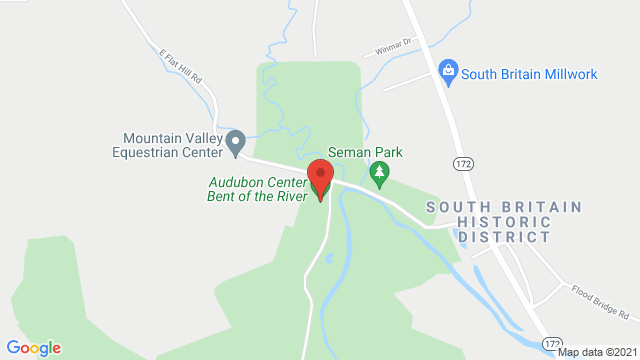 Enjoy the beauty of fall with a personal picnic! You are invited to the Bent of the River Audubon Center for a gourmet picnic, catered by Aquarian Caterers. Your meal will be made using fresh and local ingredients and packaged in an Audubon Gardening Bag. You may stay and enjoy your picnic at the Bent sanctuary (open until sunset) or at a Bent Premier Location (from 12 - 6 p.m., limited availability)—or take it with you.
Price: $50 per adult picnic meal, $20 per child picnic meal
BYOB wine and beer welcome with a $10 glass-use donation (glasses supplied by the Bent)
Premiere Location table reservations are available for an additional cost (the maximum # of people per table is 6)
Order Online by Tuesday, October 12, 2021 at 4 p.m.
Please make sure each member of your party brings and wears a mask, and practices social distancing while at the Bent.
For event questions or sponsorship interest, please contact Kate Pratt at Kathleen.Pratt@audubon.org or 203-405-9113.
*Please note on the day of the picnic that the tables are reservation-only. Table reservations are for noon until no later than 6 p.m. on the day of the picnic. If it rains on the day of the picnic, all premiere location reservations will be refunded to you. Picnics are non-fundable and must be picked up that day.*
Bent of the River Audubon Center is a 700-acre nature sanctuary and education center located in Southbury, Connecticut. We are part of the Audubon Connecticut state office of the National Audubon Society and Atlantic Flyway. Our mission is to protect birds and the places they need, today and tomorrow. Visitors are welcome to enjoy our trails, nature programs, and conservation-themed events throughout the year.
Photo: Bent of the River Audubon Center