By Jennifer Benner, Audubon Connecticut Contributor and Co-Author of The Nonstop Garden
Autumn is here. The leaves are falling, flowers are drying up, and stems are fading. For the vast majority of homeowners, these are the cues that tell us it's time to put the garden to bed. Or is it?
While fall yard cleanup gives a nice sense of closure, the sanitation of our gardens is really not helping anyone—especially nature or wildlife. The remains of the garden are part of an important ecosystem of food and shelter for insects and animals, and serve as a source of enriching soil nutrients in the year to come.
As you get ready to say goodbye to this year's garden, consider just a simple tidying up and save the big cleanup for spring. Why do it twice anyway? Here is a fall gardening checklist that will benefit you and your wildlife neighbors.
Leave herbaceous plants standing—remains of perennials and grasses provide food and shelter and actually look pretty cool when cloaked with snow in winter
Keep leaf raking to a minimum—rake leaves from the lawn and snow removal areas, like walkways and driveways, into garden beds (and then clean the beds in spring)
Tend to sickly plants—one caveat to not removing leaves and stems from beds in fall is when it comes to disease-prone plants…it's beneficial to remove sickly stems and damp leaves that can encourage the spread of disease to susceptible plants
Add to the garden—fall is an excellent time to plant (and divide) herbaceous, bulb, and woody plants…the weather conditions are optimal, and many plants are on sale
Tidy up a little—a bit of weeding in fall is not a bad idea…it gives you an edge in spring and helps knock down weed seed sources
Build a brush pile—place any fallen branches or sticks that are in your way in a brush pile…birds and other wildlife flock to piles as a winter refuge
Protect objects from winter's wrath—clean and store garden containers, tools, and bird baths that may get damaged during the winter freeze, and put away grills that may also get damaged or attract unwanted visitors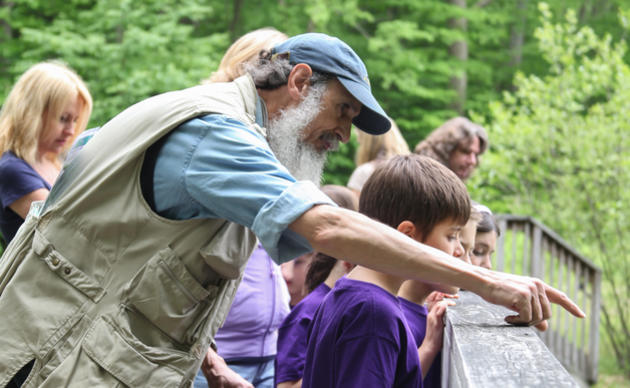 Give the Gift of Nature
At Audubon, we work to protect nature for the benefit of birds, other wildlife, and people—through education, science, stewardship, and advocacy. Your support makes this critical work possible!