After nearly 18 years with Audubon Connecticut (ACT), the state office of the National Audubon Society, Patrick Comins is leaving to begin a new role as Executive Director of the Connecticut Audubon Society (CAS).
Patrick will begin his new position on July 17, 2017, replacing Nelson North, who is retiring.
Founded in 1898, CAS is an independent organization that predates the formation of the National Audubon Society and is a valuable ACT partner in the Audubon Alliance for Coastal Waterbirds.
ACT Executive Director Stewart Hudson said, "On behalf of the staff and board of Audubon Connecticut and the National Audubon Society, we owe a big debt of gratitude to Patrick for the extraordinary accomplishments he has led on behalf of birds, other wildlife, and people in our state. There is not a part of Connecticut that has not been touched by his vision, compassion, bird knowledge, and hard work. We are disappointed that he is leaving, but heartened by the fact that he is not going far. The good news is that we can continue to work with Patrick on these issues in the years to come."
Reflecting on his years with ACT Patrick said, "My time with ACT has been an incredibly rewarding experience. It has been an honor to be part of a team that has accomplished so much for bird conservation in Connecticut and along the Atlantic Flyway over that period. If someone had told me we would be successful in protecting the Griswold Airport Property, the Guilford Sluice, and in making significant additions to the Stewart B. McKinney National Wildlife Refuge, I wouldn't have believed them. It was also a privilege to help welcome the Silvio O. Conte National Fish and Wildlife Refuge as a key conservation landholder in Connecticut; to aid in the restoration of natural habitats at Long Beach West; and to know that our efforts allow us to host all-time high counts of 63 pairs of nesting American Oystercatchers and Piping Plovers in 2016!"
Patrick most recently led the significant habitat restoration efforts at Stratford Point on the shore. He is a valued friend of birds, birders, and nature across Connecticut—always willing to share his time, passion, and knowledge. ACT looks forward to continued collaboration with CAS under Patrick's leadership, and we wish him the best in his new position.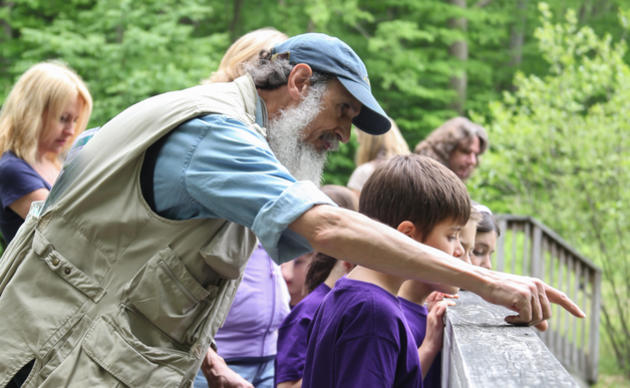 Give the Gift of Nature
At Audubon, we work to protect nature for the benefit of birds, other wildlife, and people—through education, science, stewardship, and advocacy. Your support makes this critical work possible!