By Stewart Hudson, Audubon Connecticut Executive Director & Vice President
(September 2016) Connecticut's Department of Energy & Environmental Protection (or DEEP as it is now known) promotes affordable, clean energy; protects wildlife and open space; manages our state parks; and safeguards air and water quality in Connecticut. The environmental infrastructure provided by DEEP is essential to protecting the natural heritage of our state, but continued budget cuts threaten this infrastructure as never before. Unless we reverse the current defunding of the agency, our environment is at risk as are the health and economic benefits we derive from clean air and water, and habitat for birds and other wildlife.
In the fiscal year 2016, for example, the general fund portion of the DEEP budget was cut by approximately 5%. In the current fiscal year 2017, the cuts equal 14%. Moreover, reductions in previous years have reduced staffing for the environmental and conservation components of the agency dramatically—there are 200 fewer DEEP staff today than there were in 2007, a 20% reduction in the last decade alone.
Why Should We Care?
For Audubon, CT DEEP represents the basic environmental infrastructure needed to provide safe and abundant habitat for birds and other wildlife, and to help mitigate the negative impacts of climate change. Certainly, there are times when we encourage the department to do more, but with renewed cuts in their budget and likely pressures for budget reductions in the future, we are perilously close to the agency lacking the resources it needs to perform basic functions that all citizens of Connecticut depend on.
How can the agency properly manage state parks with the staffing cuts it is forced to make? One recent example—the possibility that the agency may have to shut the new Meigs Point Nature Center at Hammonassett State Park, a $4 million facility completed just this year that educates thousands of visitors annually on the importance of environmental, habitat, and wildlife protection.
And one can easily imagine the impacts of these cuts elsewhere in the state, and in different areas—a reduced presence in habitat protection; slower response times to environmental issues; reduced investment in clean and renewable energy; minimized monitoring and reporting of changes in air and water quality; diminished support of efforts to lessen the spread of insect-borne diseases; and so on.
What Are We Going to Do?
Audubon Connecticut, with other partners in the environmental community and among other like-minded organizations, will be playing a central role in communicating the likely impact of cuts to DEEP, and advocating for adequate funding so that DEEP can provide the infrastructure we need for a healthy environment, and the economic, health, and natural benefits that are so important to our state.
This is going to be an ongoing campaign, and it won't be easy to keep even the worst of the cuts at bay. But for birds and other wildlife, and the natural heritage and open space we all benefit from and enjoy, please join us. Like us on Facebook and sign-up for our emails, for updates on issues like this, and thanks in advance for taking action to avoid Cuts Too DEEP.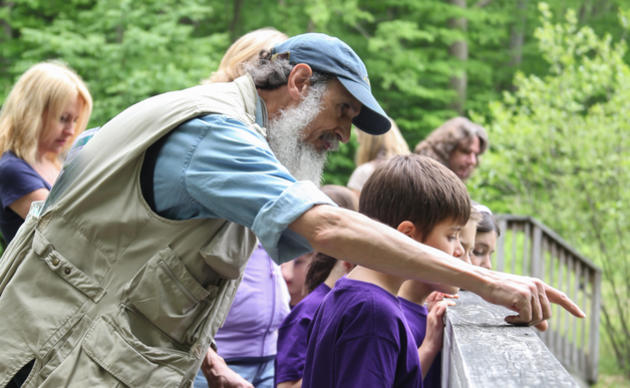 Give the Gift of Nature
At Audubon, we work to protect nature for the benefit of birds, other wildlife, and people—through education, science, stewardship, and advocacy. Your support makes this critical work possible!